thu20aug4:30 pmPostponedBluey's Big Play4:30 pm Clocktower Centre, 750 Mt Alexander Rd, Moonee Ponds VIC 3039Event Type :Children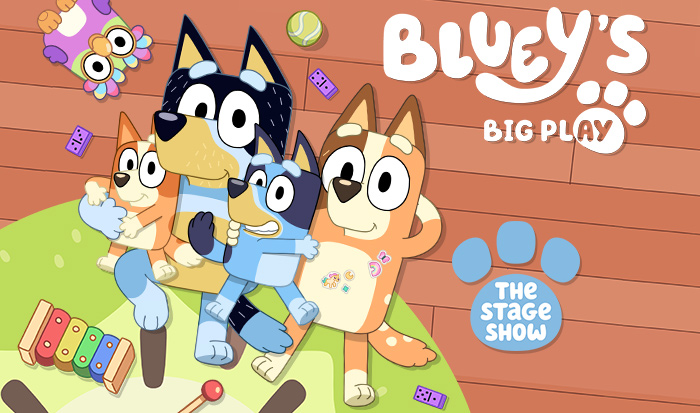 Event Details

In response to Covid-19, Bluey's Big Play – the Stage Show will not go ahead on the original dates on 20-21 August, and has now been rescheduled to Wednesday 3 and Thursday 4 February 2021.

Your tickets have been automatically transferred to and are valid for the following shows:
| | |
| --- | --- |
| ORIGINAL DATE AND TIME | NEW DATE AND TIME |
| 20 Aug 4.30pm | Wed 3 Feb 4.30pm |
| 20 Aug 6.30pm | Wed 3 Feb 6.30pm |
| 21 Aug 10am | Thu 4 Feb 10am |
| 21 Aug 12pm | Thu 4 Feb 12pm |
| 21 Aug 2pm | Thu 4 Feb 2pm |
If you are unable to attend your new date and time, please contact us on 9243 9191 or enquiries@clocktowercentre.com.au by Friday 26 June to advise and discuss the process of your credit, refund or exchange to another suitable performance time, if available. Please call between 10am and 4pm Monday to Friday.
Tickets will be on sale again soon. Please keep checking back or keep an eye out for the official announcement from Bluey.
All tickets will re re-printed and re-issued closer to the new dates in February.
***
BBCS, Andrew Kay & Qpac present Bluey's Big Play.
This is Bluey's Big Play! And it's really for real life!
See Bluey, Bingo, Mum and Dad as you've never seen them before… Join The Heelers in their first live theatre show created just for you with puppetry, live actors and iconic Australian sets. It's a little bit different and a little bit beautiful.
Bluey's Big Play is an original story written by Bluey's creator Joe Brumm with new music created by Brisbane's Beethoven and Bluey composer, Joff Bush. This is an experience you can only take home with you in your memory so please remember to bring that along with your tickets.
Love, The Bluey Team.
All tickets
$49.90 each
Family of 4 or more
$45.90 each
Groups of 4 – 9
$45.90 each
Duration: Approximately 50 minutes, no interval
Performance schedule:
Thursday 20 August 2.30pm
Thursday 20 August 4.30pm
Thursday 20 August 6.30pm
Friday 21 August 10am
Friday 21 August 12pm
Friday 21 August 2pm
Please note that a limit of 9 tickets applies to each/multiple booking(s). Looking to buy more than 9 tickets? Call us on 9243 9191.
Children Under 12 months (at the time of the show) can attend for free & on the knee. 12 months and over are to have a paid ticket.
If you require a wheelchair space, please contact us on 9243 9191 to arrange your booking.
VERY IMPORTANT INFORMATION
The Clocktower Centre is the only authorised ticket agency for this event at this venue.
Other websites are not authorised and may charge significantly higher prices. Tickets purchased via websites such as Viagogo, eBay, Gumtree, or any other unauthorised seller risk the possibility of being fake and void and may not be honoured by this venue.
Please note the Victorian shows of Bluey's Big Play are subject to a major event ticketing declaration under the Major Events Act 2009. It is an offence for a ticket to be sold, or offered, or advertised for resale, at a price exceeding its face value purchase price by more than 10%. Breaches can result in heavy fines of up to $96,714 for an individual and $495,660 for a company.
For queries regarding the Major Events Act please visit vic.gov.au/ticketscalping.
750 Mt Alexander Rd, Moonee Ponds VIC 3039
Future Event Times in this Repeating Event Series
august 20, 2020 6:30 pmaugust 21, 2020 10:00 amaugust 21, 2020 12:00 pm