The Listies present ROFLSHALBOWCO
sat18jul10:30 amPostponedThe Listies present ROFLSHALBOWCO10:30 am 750 Mt Alexander Rd, Moonee Ponds VIC 3039Event Type Children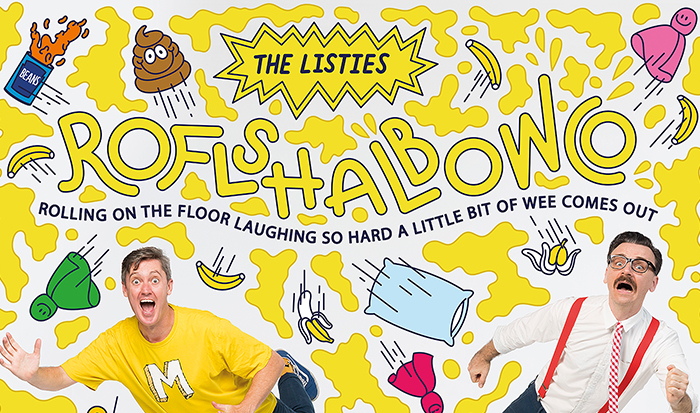 Event Details

(Rolling on the Floor Laughing So Hard a Little Bit of Wee Comes Out)

The Listies & Critical Stages Touring Production

Hilarious, ridiculous fun for your kids that will have the whole family in stitches.
Does it have a burpershop quartet?" Yes, yes it does.
"Are there 37 bubble machines?" Of course there are.
"Does the show feature the world's most annoying song?" Totes!
"Is there a mini panto fairy tale called 'Jack and the Beans-Talk' about a boy who eats magic beans and farts himself into space?" YES I MEAN WHAT SHOW DOESN'T HAVE THAT?
"Will I roll on the floor laughing so hard a little bit of wee comes out?" Yes, yes you will… you should probably bring a towel.

Gratuitous, ridiculous, hilarious, joyous and possibly hazardous, Rich and Matt are The Listies, Australia's maestros of kidult comedy, a multi-award winning duo who win over everyone who comes to see them with their insane, interactive, illogical and irreverent escapades.

ROLLING ON THE FLOOR LAUGHING so hard a little bit of wee comes out is the freshest double act sketch comedy in kid's entertainment. It's all of the most popular bits of The Listies' sell-out shows jam-packed with a brand new set of hilarious comedy routines that will have the whole family in stitches.

Best suited for children aged 5+

1 – 3 tickets
$30 each
4 or more tickets
$27.50 each
Duration: Approximately 60 minutes, no interval

*Everyone older than 18 months requires a ticket

**Looking to buy more than 10 tickets? Call us on 9243 9191.

***If you require a wheelchair space, please contact us on 9243 9191 to arrange your booking.