Podcast Residency Program
The program aims to support the development and distribution of locally produced podcast content and increase the capacity of local artists and the community to create podcasts and share local stories.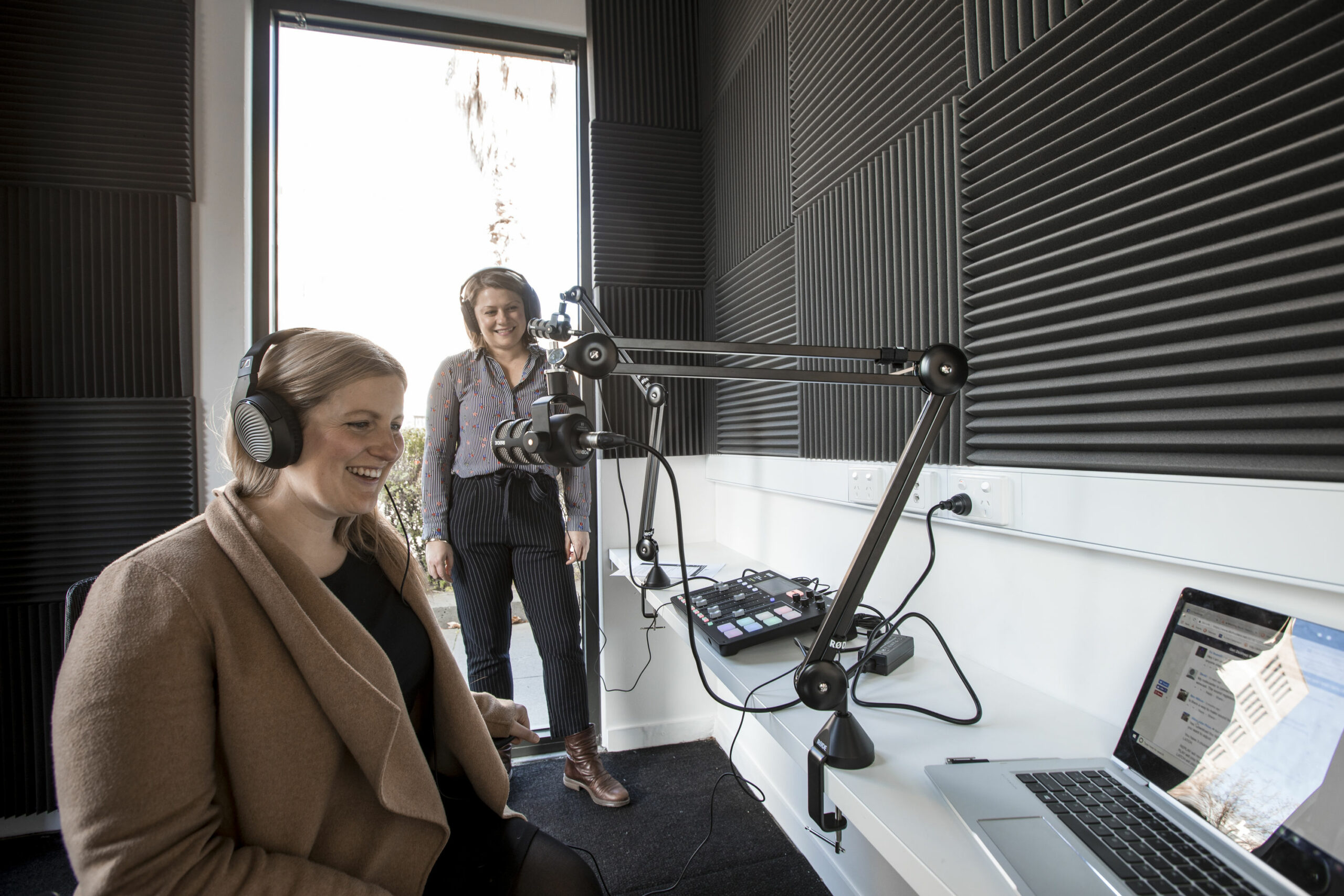 Centrally located in Moonee Ponds, the Clocktower Centre Podcast Studio is a brand new acoustically treated space which contains 2 x Rode broadcast microphones with adjustable stands, a 6-channel mixing desk and laptop computer with basic recording/editing software.
Applicants can apply to produce a single podcast episode or an entire podcast series. Applications will be made through an expression of interest process. Applicants will be required to outline the proposed content of their podcast episode or series as part of the application process. There are no restrictions when it comes to the genre or subject of the work, however, projects which contain offensive, hateful, racist, sexist, discriminatory or other unacceptable material will not be considered.
Projects which focus on local stories, culture or history or other topics specific to the Moonee Valley community will be highly regarded.
In-kind use of Clocktower Centre Podcast Studio space
In-kind use of podcast recording equipment
In-kind marketing and publicity through Clocktower Centre's online channels
In-kind podcast hosting
Support from performing arts team
A project fee
Expressions of interest open: Friday 14 May
Expressions of interest close: 11:59pm Monday 31 May 2021
Assessment Period: Tuesday 1 June 2021 to Monday 7 June 2021
Recipients announced: Tuesday 8 June 2021
An expression of interest form can be found at 
Please complete and submit this form before 11:59pm Monday 31 May 2021. Please include all required support material in this application. If required, a telephone interview may be part of the assessment before recipients are decided.
For further information or to discuss in more detail, contact the Clocktower Centre on 9243 9190 or email enquiries@clocktower.com.au
We will endeavour to inform all applicants of the outcome of their application by 5pm on Tuesday 8 June 2021.
Expressions of interest will be assessed on the following criteria:
The creative merit of the project (20% weighting)
The community benefit of the project (40% weighting)
The development of the individual's creative and/or professional practice (20% weighting)
Demonstration of ability to carry out the proposed project (20% weighting)
Projects that are already funded through another MVCC funding or grant program are
not eligible.
Public Liability Insurance (PLI) is compulsory. Applicants with existing PLI must be covered to the value of no less than $20 million at all times while conducting activities under the residency agreement. Council can arrange for individuals or community groups without PLI to be covered. These applicants shall bear the first $250 of each and every claim or series of claims arising out of any one occurrence.
Recipients of the Program will be required to sign an agreement with the Clocktower Centre before beginning their project. A signed copy of this agreement must be returned by Wednesday 23 June 2021.
Any and all materials required for the creative work are the sole responsibility of the resident.
It is the responsibility of the recipient to obtain permission to perform/use any copyrighted material as part of their presentation. Evidence of permission to use any copyrighted material should be provided on their application (or evidence that permission has been sought).
Current employees of Moonee Valley City Council are not eligible to apply.
All recipients will be required to abide by the Clocktower Centre's COVID-Safe plan, as well as submitting their own project specific COVID-Safe plan prior to the commencement of the residency.
The recipient must record the majority of the audio for their project within the Clocktower Centre Podcast Studio.
The recipient must credit the support of the Clocktower Centre at the beginning of each episode and insert a pre-recorded advertisement for the Podcast Studio (to be provided by the Clocktower) at the end of each episode.
Podcasts will be made available online through the ClocktowerCast channels at no cost to the general public.