Bluey's Big Play – The Stage Show
Tuesday 27 July, 4.30pm and 6.30pm
Wednesday 28 July, 10am, 12 noon and 2pm
Cheese and crackers! It's been as stressful as a game of Keepy Uppy waiting to hear when Bluey's Big Play – The Stage Show would be coming to the Clocktower. We're as happy as Bandit with a takeaway spring roll to confirm that Bluey and her family will hit the Clocktower Centre stage from 27 to 28 July 2021.
As you know from our previous communication with you, we were hopeful that this event could go ahead on 3 – 4 February, however to ensure certainty for Bluey, the promoters have made the decision, to reschedule Bluey's Big Play to Tuesday 27 and Wednesday 28 July. We thank you for your patience as we work through the logistics of this move.
Your tickets have been automatically transferred to the dates in the 'NEW RESCHEDULED DATE & TIME' section and are valid for the following shows: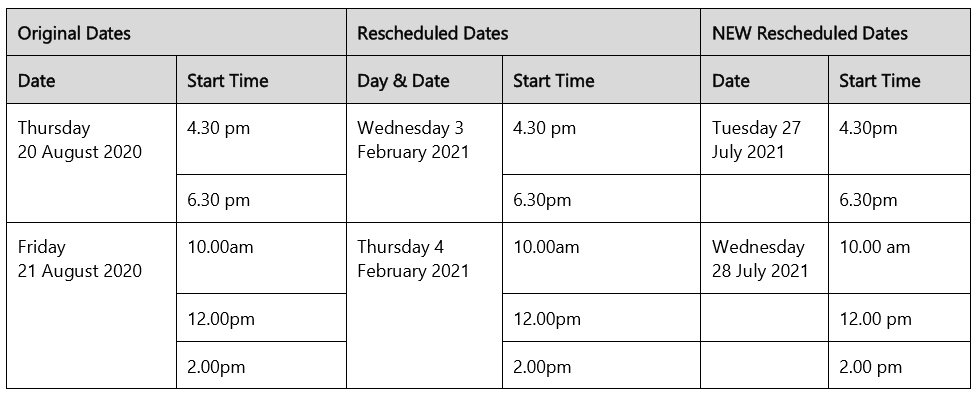 We do understand that some of our patrons may wish to request a refund as you may be unable to attend your new performance date and time and in this case, please contact us by the end of February 2021 to request a full refund. Normal refund policies shall apply to refunds requested after this date.
If we don't hear from you by this date, we assume you will be able to attend.
We can't wait for Bluey's Big Play – The Stage Show to come to the Clocktower. We reckon it will be even better that a family trip to Hammerbarn. Thank you for your patience as we all work within a changing environment.
Tickets will be on sale again soon. Please keep checking back or keep an eye out for the announcement from Bluey.